Price optimization instead of eBay ads: How household goods all-rounder Wark24 switched from integrated repricing to SnapTrade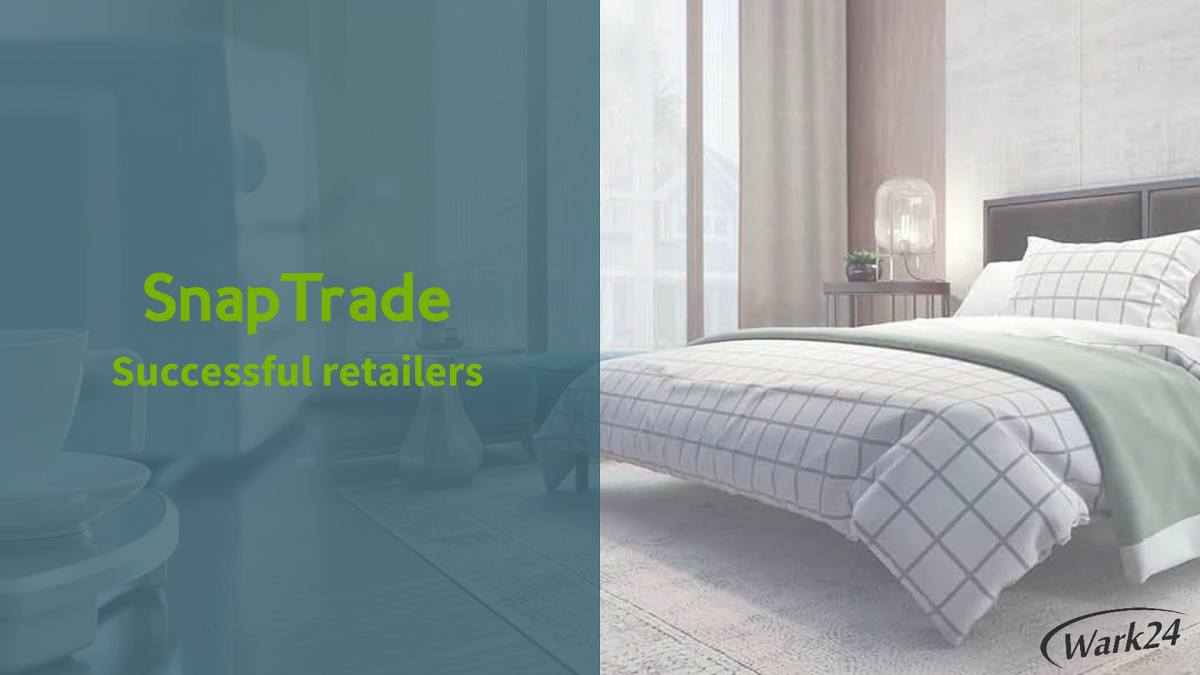 Advertisements allow dealers increased visibility on the web within a very short time. Google is no longer alone in knowing that a lot of money can be earned with this service. Almost every marketplace today offers the opportunity to place paid advertising for your own products.
In an exciting interview, Hans-Jürgen Wark, Managing Director of Wark24 , tells us what made him switch from the integrated repricing of his merchandise management system to SnapTrade and how the tool replaced most of his eBay ads. As always, we hope you enjoy reading!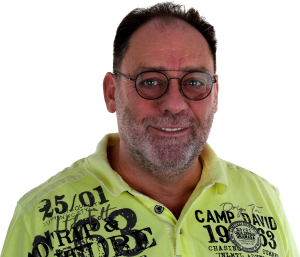 Hans-Jürgen Wark has been Managing Director of Wark24 since it was founded in 2004.
Hello Mr. Wark, thank you for taking the time! To start with, can you tell us something about yourself and your company?
Willingly. We founded Wark24 in 2004. It all started very small back then, mainly with the sale of coffee pods on the eBay platform. Then we grew more and more. We mainly carry household items, we started with coffee. Care products for fully automatic coffee machines such as e.g. B. water filters, cleaners and household items such. B. vacuum cleaner bags added.
Today, our range actually includes everything that has to do with the kitchen and household – with the exception of electrical appliances. For a while we also sold toasters and pad machines, for example. However, we gave up this area again because it was too time-consuming to deal with returns and guarantee cases.
Wark24 is also available as a private label. How did that happen?
How did this happen? Good question, actually this has been a wish of mine for a very long time, but we never found a suitable company that could put together our products for us. Then we got in touch with a waterbed manufacturer who is also a chemist. At some point we sat down and discussed the possibilities for our own product line. That was in 2015, after that we started to implement it. We now sell descalers, cleaning tablets and water filters under our own brand.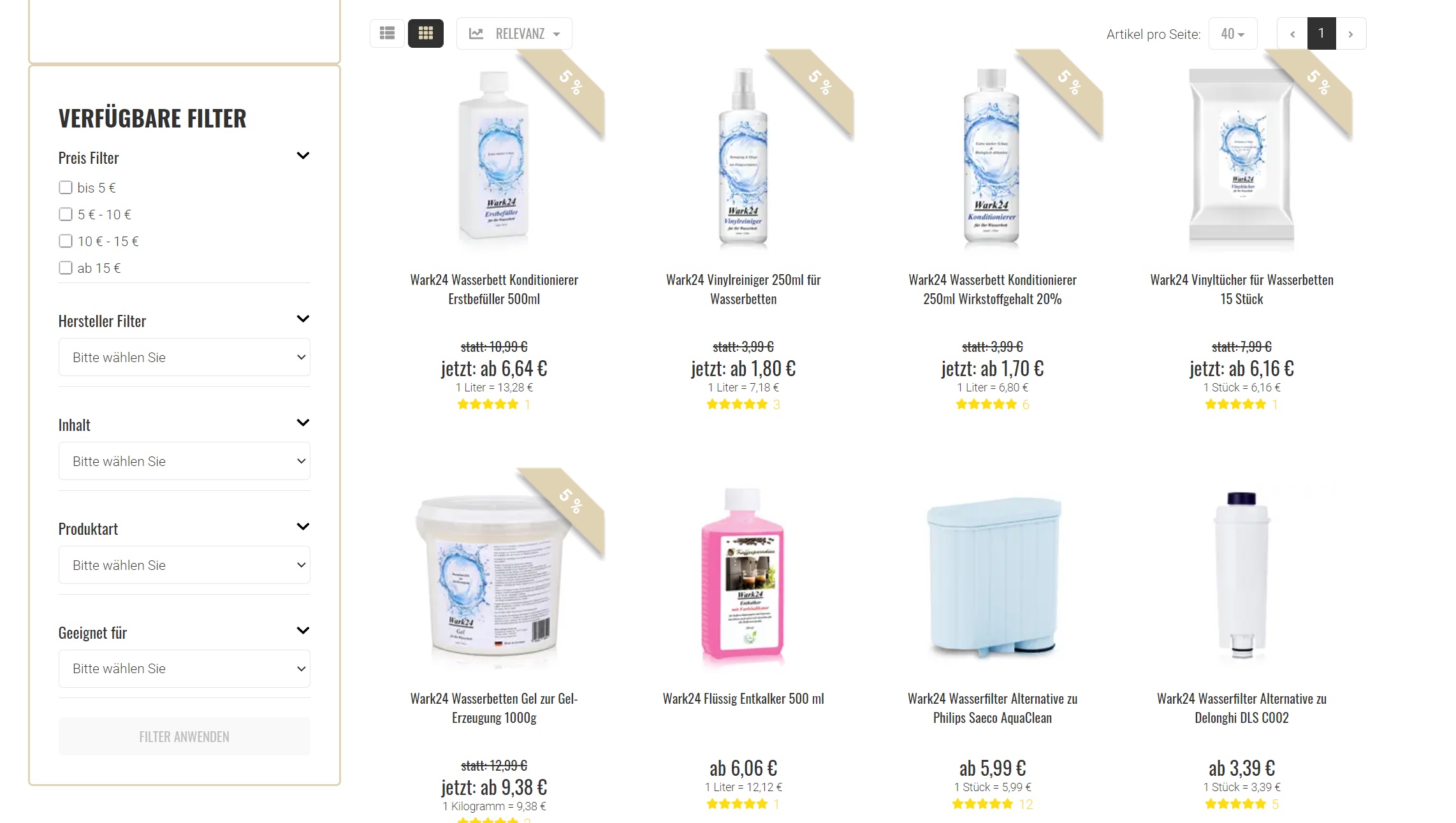 Wark24 is now also an own brand24 for descalers, cleaning tables and water filters.
When did you first come into contact with a repricing tool?
We started price optimization early on. I already had a standalone repricing tool before I bought an integrated system in 2011, which then replaced it. Eventually, SnapSoft approached me. At first I didn't want to try a new system, we were already using a price optimization tool, but of course you can test it.
Does that mean SnapSoft approached you, not the other way around?
That's right, SnapSoft approached me – others did the same, but there was never that much sympathy. SnapSoft support has always been friendly and never tried to sell me anything. At some point I tested SnapTrade, which ultimately convinced me.
Our old solution was integrated into our merchandise management system. We have everything on board: ERP, accounting and repricing. We got on with it. The only problem was, the tool was developed in 2008, after that not much happened. Our repricing was therefore very sluggish. SnapTrade is just so much faster and offers other benefits and features along with it.
Speaking of features, what SnapTrade features do you use?
We actually use almost the entire range of SnapTrade. This applies to price optimization for eBay , Amazon , the BuyBox Max strategy and since last year also ShopSPY . I particularly like the integrated price calculation. The purchase price is imported and the sales price is calculated based on specifications that I can set myself. It's very quick and you can then save your desired strategy.
It used to be difficult when we suddenly had several absences due to illness – with Corona and quarantine times this problem is getting worse. Of course I can't do the same number of packages with half the team. Then we had to completely stop selling on Amazon. With SnapTrade, we can easily adjust our product prices for a while, slowing things down without completely stopping sales. That's super fast too.
We already mentioned at the beginning that price optimization has largely replaced your eBay ads. Can you tell us more about this?
Yes that's right. We had an ad budget that SnapTrade completely replaced for a while. The repricing gave us more visibility and we no longer needed the ads. However, we've recently started running eBay ads again, albeit on a much smaller scale than we used to.
It's the marketplace itself. On Amazon, every product has an assigned ASIN by which it can be found. Every business must sell under this ASIN. There is nothing comparable on eBay. The same product can be displayed there twenty times, which is why we have to link everything manually. Because we have so many products, we've reintroduced eBay ads on a small scale.
How did the repricing affect your sales?
Due to the price optimization, the sales were always at least the same or better than when we exhausted our full ads budget. There are of course costs for SnapTrade, but the bottom line is that you have saved.
If you could wish for a feature from SnapSoft in the future, what would that feature be?
I can't say that exactly. I would certainly think it would be great if it was even easier to edit several articles together. This already works in part, but for many things you have to download an Excel list, edit it and import it again. I would find it more efficient if more changes were possible directly in the tool. I have already requested a feature. The support always forwards such requests to the development department and some things are then implemented later. It's very needs-based.
And what's next for Wark24?
We are still on course for growth. Last year we had almost 40 percent more sales. This was also due to the pandemic. Last year we increased our staff again, now we also want to expand spatially, build a new hall and double our area.
Then new products come into the online shop, that happens all by itself. Manufacturers, wholesalers and suppliers are all looking for buyers for their products. Sometimes the best ideas come from this, for example oat milk: We have been selling it for almost two years, a manufacturer gave us the idea. Today this is one of the best products that I would never have thought of on my own.
In the end I always had to say that we had no more space. That is now changing.
We are happy to hear that! Mr. Wark, we had a lot of fun. Thank you for the informative interview. We wish you continued success with Wark24 and thank you for your trust in SnapTrade!
Want to try SnapTrade too? Then start your free test now!
Thanks to SnapTrade, Wark24 was able to do without a large part of its eBay ads. If you want to know whether dynamic repricing is worthwhile for your company, just give it a try! You can test SnapTrade for 14 days free of charge and without providing any payment information. If you have any questions, our support will be happy to help you.